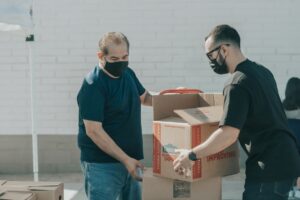 The goal of the Commodity Supplemental Food Program (CSFP) is to improve the
health of elderly people, at least 60 years of age, by supplementing their diets with
nutritious United States Department of Agriculture (USDA) foods and nutrition education
resources.
Washington State Department of Agriculture (WSDA) manages CSFP, receiving food
and operational funding from USDA for distribution to 12 CSFP lead contractors and
27 counties throughout the state.
While CSFP provides a steady stream of nutritious food, the program is not offered in all
counties due to federal funding limits. WSDA typically leverages the current TEFAP
distribution system for the distribution of CSFP via food pantries and other food
assistance providers.
The food packages provide clients with almost 28 pounds of critically needed food each
month. Participants receive real food and not food vouchers. The focus is on nutritional
supplementation and provides a variety of fruits, vegetables, healthy juices, dairy,
potatoes, cereal, rice, and protein.
Who Can Receive CSFP?
In order to be eligible, you must be an older adult, 60 years of age or older, and your
monthly income must not exceed 130% of the federal poverty level.
Click here for more information
How can I sign up?
Contact the closest site to you to schedule an appointment to sign up for the program.
Please be sure to bring a picture ID that proves your name and age.
LOCATIONS
Grays Harbor County
Aberdeen Food Bank
2120 Commerce St.
Aberdeen, WA 98520
Hoquiam Food & Clothing Bank
720 K St.
Hoquiam, WA 98550
East County Food Bank
106 W. Main St.
Elma, WA 98550
360-482-4728
Pacific County
Ocean Park Food Bank
1601 Bay Ave.
Ocean Park, WA 98640
360-665-6567
Nondiscrimination Statement
In accordance with federal civil rights law and U.S. Department of Agriculture
(USDA) civil rights regulations and policies, this institution is prohibited from
discriminating on the basis of race, color, national origin, sex (including gender identity
and sexual orientation), disability, age, or reprisal or retaliation for prior civil rights
activity.
Program information may be made available in languages other than English. Persons
with disabilities who require alternative means of communication to obtain program
information (e.g., Braille, large print, audiotape, American Sign Language), should
contact the responsible state or local agency that administers the program or USDA's
TARGET Center at (202) 720-2600 (voice and TTY) or contact USDA through the
Federal Relay Service at (800) 877-8339.
To file a program discrimination complaint, a Complainant should complete a Form AD-
3027, USDA Program Discrimination Complaint Form which can be obtained online
at:  https://www.usda.gov/sites/default/files/documents/USDA-OASCR%20P-Complaint-
Form-0508-0002-508-11-28-17Fax2Mail.pdf , from any USDA office, by calling (866)
632-9992, or by writing a letter addressed to USDA. The letter must contain the
complainant's name, address, telephone number, and a written description of the
alleged discriminatory action in sufficient detail to inform the Assistant Secretary for Civil
Rights (ASCR) about the nature and date of an alleged civil rights violation. The
completed AD-3027 form or letter must be submitted to USDA by:
Mail:
U.S. Department of Agriculture
Office of the Assistant Secretary for Civil Rights
1400 Independence Avenue, SW
Washington, D.C. 20250-9410; or
Fax:
(833) 256-1665 or (202) 690-7442; or
Email:
program.intake@usda.gov
This institution is an equal opportunity provider.