Farm To Food Pantry
Finding New Ways to Supply Food Directly From Farms
Supporting local farmers and reducing food miles by buying local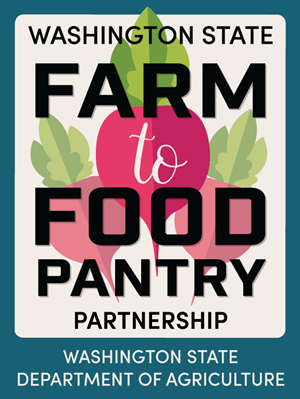 WSDA's Farm to Food Pantry initiative utilizes state Emergency Food Assistance Program (EFAP) funds to help hunger relief agencies across the state purchase fresh produce from their local farmers, increasing access to healthier food options for low-income residents of Washington. And mostly purchase from farms that don't have outlets to sell what they grow.
How it works
This is a relatively new program. Coastal Harvest is one of the first organizations in the state to participate in this.
Participating hunger relief agencies leverage the WSDA funding to solicit matching funds from donors in their community, in some cases doubling, or tripling the amount of money available to purchase produce from local farmers. Great Northwest Federal Credit Union has become the first donor/sponsor for this program. We appreciate their support in this effort.
Currently we work with two farms. Sky Island and the Cultivating Roots Program. The food we purchase is given to local food banks. And also the mobile food truck.
Farm To Food Pantry is a small program that is expected to grow over the next several years. We expect to add more local farms that can provide a variety of mostly vegetables and some seasonal fruit.