We Feed Washington Pilot Food Program
Coastal Harvest is a participant in the: 
Washington State Department of Agriculture
We Feed Washington Pilot Food Program
The purpose of this grant funding provided by the Washington State Legislature is to facilitate the procurement and distribution of emergency food resources to hunger relief organizations as a state alternative to the USDA Farmers to Families Food Box program. This grant is part of the state's coordinated response to increase farm and food business viability, reduce access barriers, and increase food security for all Washingtonians.
Food purchased thru this program, will be distributed to food pantries and meal site locations in Grays Harbor and Pacific Counties.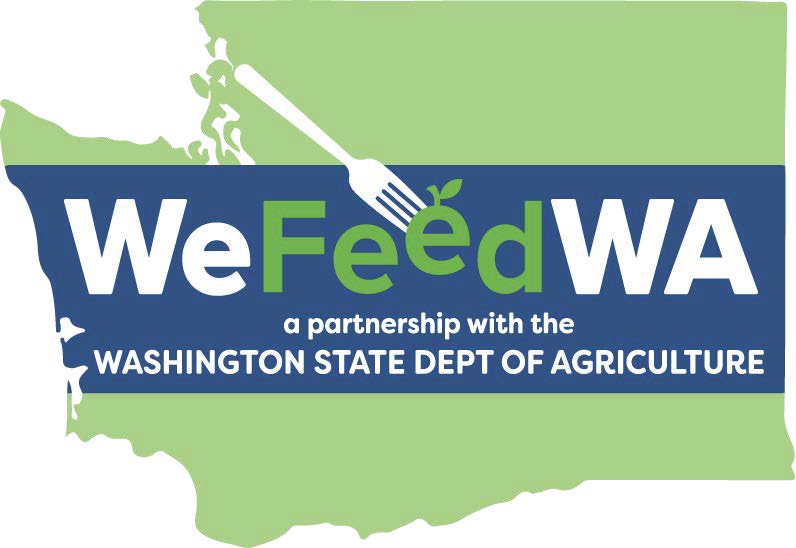 Grays Harbor
Aberdeen Baptist Church Food Bank
2733 Aberdeen Ave
Aberdeen, WA 98520
360-533-1572
1st and 3rd Saturday 11:00am –Aberdeen Food Bank
2120 Commerce St.
Aberdeen, WA 98520
Off Wooding, across from Home Depot
facebook.com/aberdeenfoodbank/
Tuesday 3:00pm – 5:00pm

Bay Center Food Bank
2 Main Street E.
Bay Center, WA 98527
2nd and last Friday 4:30pm – 5:30pm
Copalis Church Community Food Bank
3137 State Route 109
Copalis Beach, WA 98535
360-289-2233
Wednesday 1:30pm – 5:30pm
East County Food Bank
106 W. Main Street
Elma, WA 98541
360-482-4728
Monday 10:30am – 4:00pm
Foursquare Church – The Lord's Pantry
4800 Central Park Drive
Aberdeen, WA 98520
360-538-0111
2nd and 4th Thursday 10:00am – 12:00pm
Harbor Landing
Grays Harbor College 500 building (gym)
1620 Edward P. Smith Drive
Aberdeen, WA 98520
360-538-4243
https://www.ghc.edu/studentlife/harbor-landing-food-pantry
Tuesday 10:00am – 2:00pm / Days/hours may vary during college breaks
Hoquiam Food & Clothing Bank
720 K Street
Hoquiam, WA 98550
360-533-4909
Monday and Wednesday 12:00pm – 2:00pm
Humptulips Food Bank
32 Mcaffee Road
Humptulips, WA 98552
360-987-2361
3rd Wednesday 12:00pm – 3:00pm
Malone Food Bank
25 Mox Chehalis Road
Malone, WA 98559
360-482-2329
2nd and last Wednesday 7:00am – 9:00am
McCleary Food Bank
100 3rd South Street
McCleary, WA 98557
2nd and 4th Monday 8:30-11:00am
Montesano Food Bank
213 W. Spruce Street
Montesano, WA 98563
360-249-5374
First four Fridays of the month 1:00pm – 3:00pm
Ocean Shores Food Bank
846 Anchor Ave. NW
Ocean Shores, WA 98569
360-289-2171
1st and 3rd Thursday 10:00am – 5:00pm
Pacific Beach – Mobile Food Bank
4576 WA-109 (Fire Station)
Pacific Beach, WA 98571
360-532-6315
3rd Tuesday 9:00am – 11:00am
Quinault Food Bank
31 Burn Road
Nielton, WA 98566
1st and 3rd Tuesday 1:00-4:00pm
Salvation Army
120 W. Wishkah Street
Aberdeen, WA 98520
360-533-1062
Tuesday and Thursday 10:00am – 11:30am & 1:00pm – 3:00pm
Seventh-day Adventist Church Food Bank
3101 Cherry Street
Hoquiam, WA 98550
360-537-9133
Thursday 10:00am – 2:00pm
South Beach Food Bank
314 N. Broadway
Westport, WA 98595
2nd and 4th Thursday 9:00am – 11:00am
South Beach Christian Outreach
Meal Program, Food and Clothing Bank
617 S Forrest St.
Westport, WA 98595
360-268-1455
Tuesday 12:00pm – 2:00pm 
Tahola – Mobile Food Bank
409 Cummex St (Senior Center)
Taholah, WA 98587
360-532-6315
3rd Tuesday 12:00pm – 2:00pm
Feeding Programs
CCS/Feed the Hungry
410 N. H Street
Aberdeen, WA 98520
360-637-8563
Monday – Friday 12:00pm – 1:00pm
South Beach Christian Outreach
Meal Program, Food and Clothing Bank
617 S Forrest St.
Westport, WA 98595
360 268-1455
Tuesday 12:00pm – 2:00pm 
Pacific County
Chinook Food Bank
810 State Route 101
Chinook, WA 98614
1st and 3rd Thursday 1:00pm -3:00pm
Legacy Community Outreach Food Bank
227 E Water Street
South Bend, WA 98586
360-875-6688
Wednesday 2:00pm – 5:30pm
North River Food Bank
2637 North River Road
Cosmopolis, WA 98537
3rd Tuesday 3:00pm – 4:30pm
North Pacific County Food Bank
1899 Park Avenue
Raymond, WA 98577
Thursday 3:00pm – 6:00pm
Ocean Park Food Bank
1601 Bay Avenue
Ocean Park, WA 98640
360-665-6567
Tuesday – Friday 10:00am – 2:45pm
Shoalwater Food Bank
2373 Old Tokeland Road
Tokeland, WA 98590
360-267-6766
1st Friday 8:00am until food is gone
St Vincent De Paul Food Bank
116 First Ave S.
Ilwaco, WA 98624
360-642-8401
2nd and 4th Friday 11:00am – 2:00pm
Feeding Programs
His Supper Table
911 Pacific Ave N.
Long Beach, WA 98631
360-642-4105
Monday and Thursday 4:00pm – 5:00pm